YourDrops Campaign
Spring 2022
Drops status:

Total booked shares: 0

Drops pledged: 0

Cash pledged (): 0
Your available Drops are: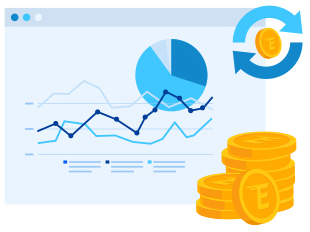 Total Booked Shares
0
out of 0
Percentage value reached!
Register your interest by 1st January 1970
Remaining time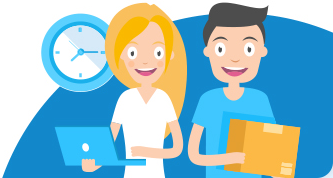 Welcome to the YourDrops Loyalty Campaign!
With the YourDrops loyalty campaign, we are aiming to revolutionise our Drops Rewards Programme! As one of our valued Drops Members, you know all too well how EshopWedrop works and your commitment to our business has not gone unnoticed. With every order placed, you have received Reward Drops; tokens of our appreciation that, until now, you could use mainly for discounts on future orders.
YourDrops is EshopWedrop's newest opportunity for our valued Drops Members; we are extending an invitation for you to take part in a unique campaign regarding the business that you are so instrumental in shaping. We are on the lookout for Drops Members with an interest in taking a more active and participative role in our rapidly growing technology based and global cross-border delivery, e-fulfilment and logistics business.
In November 2021, we introduced a seed of usable Drops into each of our Drops Members accounts; specifically, 2021 Reward Drops that could be used for further discount codes or saved for future opportunities like this. We have great hopes that this could be the beginning of something new and exciting for EshopWedrop and give our Drops Members an additional perk, given their continued loyalty to our business; by offering them the opportunity to put their accrued Drops to good use in a special EshopWedrop loyalty campaign that explores potential stake in our company.
As of January 2022, the mission of EshopWedrop is aggressive expansion, with plans for blanket coverage of Europe within the next 12-18 months. Our newest fulfilment hub in Frankfurt, Germany and current e-customs clearance procedures by way of the Netherlands are making it easier than ever to access, transport and receive parcels into and throughout Europe. Exploring these opportunities hand in hand with us at this crucial and exciting time can only be a benefit to Drops Members as we continually seek to nurture important relationships with our loyal customers.
What's in it for me?
We are exploring, through this newest opportunity, potential rewards to Drops Members interested in playing a part in the future of EshopWedrop. This exciting campaign would be open to Drops Members only, as we seek to continue providing unique and uplifting perks and benefits to customers who put so much into the business. We want to create a community of loyal and interested individuals who seek to play a part in something truly incredible as we strive to push the limits of cross-border delivery and what it can ultimately achieve.
The initial stage of the YourDrops campaign aims to identify interested Drops Members who might wish to become actively involved in our business. We would look to reward those expressing a keen interest with a stake in EshopWedrop. It would be our intention to find Drops Members that:
Believe in our business – Since they use the service regularly or show a particular interest in its workings, Drops Members who believe in the business would be welcome to become part of this ever-growing and exciting enterprise.
Show interest in becoming more than just a customer – As a Drops Member with stake in EshopWedrop you would no longer just be our customer but find yourself closer to the inner workings of the business than ever before.
All amounts received by EshopWedrop as a result of this unique opportunity would be used for the realisation of EshopWedrop's future business goals; with a particular focus on the plans for rapid expansion that we seek to realise over the next few months.
Ideally, we would like to bring in around 100 valued Drops Members to take part in this campaign where, at its conclusion, they could stand beside us as joint owners of EshopWedrop holding company. Have any questions? Check out our FAQ section to see if we have the answer for you!
Interested? Full Terms and Conditions outlining the details of the YourDrops Campaign and any future updates, will be outlined clearly and with full transparency during the campaign's duration. Please ensure that you have familiarised yourself with some of the more important information pertaining to the YourDrops campaign, as follows:
In recognition of the continued value and loyalty brought to the business, this campaign will only be open to Members of the Drops Rewards Programme, as a token of our appreciation and as a special form of reward for their loyalty;
The holding company of the EshopWedrop Group of Companies may seek to issue new ordinary non-voting shares at a unitary value estimated at £0.00 (Pound Sterling) or equivalent in other currency;
Where the payment of Drops can be used in the purchase of EshopWedrop shares, a maximum of Drops can be spent per share, meaning the minimum cash payment per share would be £4.00 or equivalent in other currency. This is with the consideration that Drops have a value of £ (Pound Sterling) or equivalent in other currency and would apply for all countries where the campaign is running (including countries where Drops are valued in a different currency, as per the relevant Drops Rewards Programme);
Drops can therefore be used to cover up to half of the entire contribution per each share sought by a Drops Member;
Our plan is for the minimum number of shares to be owned by one Drops Member to be , and maximum number of shares that could be thus obtained by one Drops Member would be 5,000;
The Drops Members who will become shareholders of EshopWedrop holding company will have the ability to convert their shareholding after a period of one year, by swapping their shares into Drops with forecasted 25% premium;
It is important for Drops Members to understand the rules and details concerning this campaign, its stages and what it would mean for them, should they choose to finalise the arrangement when the campaign comes to a successful conclusion; namely the ownership of a non-voting stake in EshopWedrop holding company. We would like to stress that Drops Members are under no obligation to take part in this campaign though we hope they will continue to enjoy the services EshopWedrop provides either way;
It is important to understand that this campaign may require updates to YourDrops Terms and Conditions, however we will ensure that all Drops Members are appropriately and reliably informed of any changes.
We hope that you are as excited by this new opportunity as we are and will join us in our goal of building a stronger EshopWedrop; providing further value to both our current customers and those who might seek to use our services in the future.
Should you have any questions regarding YourDrops, please get in touch with our Customer Support Team or email us directly and we will be happy to assist with any queries you may have!
Your EshopWedrop Team
This is for information purposes ONLY and cannot be construed or enforced as giving rise to rights and/or obligations, or in any way as binding or enforceable against any EshopWedrop company or its shareholder/representatives.
BOOK SHARES
All information provided in this material are to be best of management belief and cannot be considered as binding commitments.
The material falls under protection of the intellectual property legislation and cannot be copied, disseminated or used in any other way without the express prior consent of EshopWedrop
Our Forecasts
These are the forecasts of our projected Parcel Volumes, Total Revenue, Gross Profit and (EBIT) Earnings Before Interest or Taxes and represent our goals over the next five years. These will give you an idea as to the targeted growth and expansion that will be our primary focus: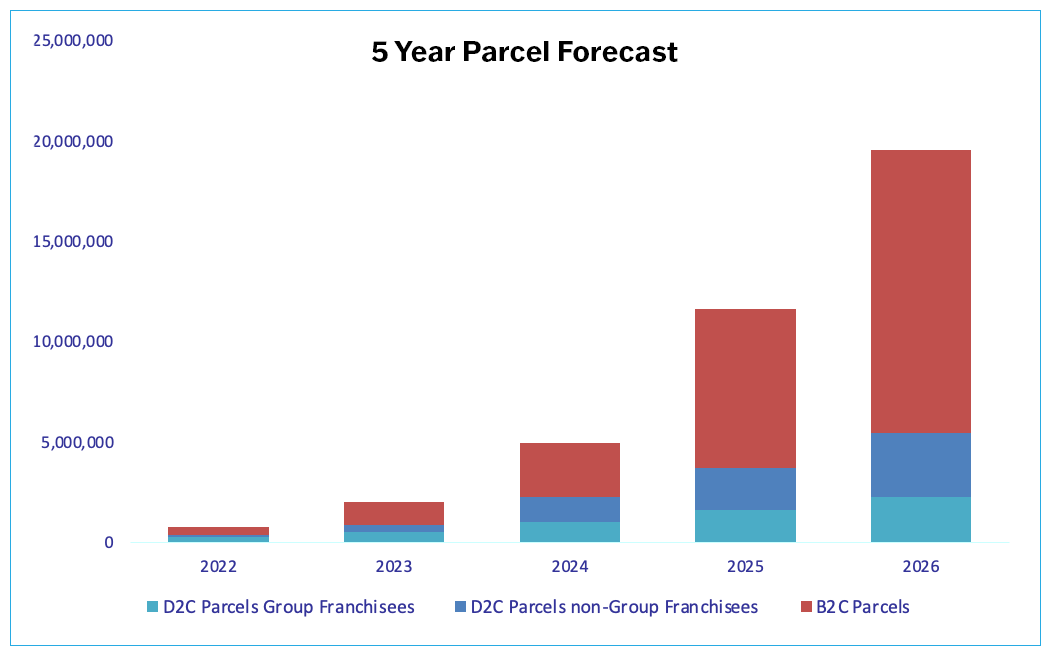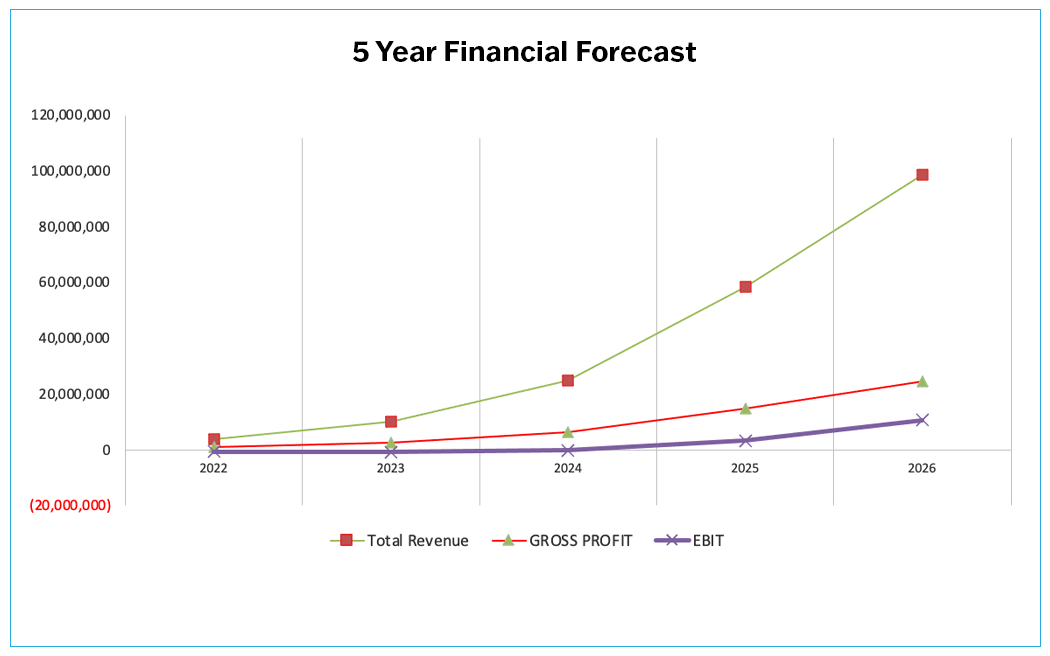 Parcel Volumes: the total number of parcels that are processed and delivered by the network in relevant year; Total Revenue: the full amount (EUR) of the total sales of goods and services; Gross Profit: the profit (EUR) a business makes after subtracting all the direct costs that are related to the selling of its products or services; Earnings Before Interest or Taxes (EBIT): the measure of a company's profit (EUR) that includes all incomes and expenses except interest expenses and income tax expenses; D2C (Direct-to-consumer): parcels generated directly by our customers shopping online for their cross-border e-commerce orders, with the delivery service paid to us by the customer themselves; B2C (Business-to-Consumer): parcels generated by online retailers for their cross-border e-commerce sales orders, with the delivery service to the consumer paid to us by the retailers.
These are our forecasts and cannot be considered as binding commitments. Financial forecasts are also prone to macro and micro economic uncertainties.
Sign up today and receive your first EshopWedrop delivery from any online shop in Europe or USA for FREE!
Shop from USA & Europe Receive in Lithuania
1st DELIVERY FREE
By using the Eshopwedrop website you agree to our use of cookies as described in our cookie policy. Read more
Please wait while we will validate your ZIP code